Nature & Nurture Wellness & Yoga Retreat At Burncoose House With Mind Body & Soil and Jenny Ella Yoga
Tucked away in a valley, surrounded by open countryside, Burncoose House allows you to escape the hustle and bustle of modern life and immerse yourself in all things healthy and peaceful.
Once you step through the doors of this gorgeous 7 double bedroom residence, you enter another world. Burncoose House is set in 30 acres of mature woodland garden offering privacy and tranquility. The décor reflects the Georgian heritage of the house with all the modern touches you could wish for, this all feels delightfully welcoming and instantly calming.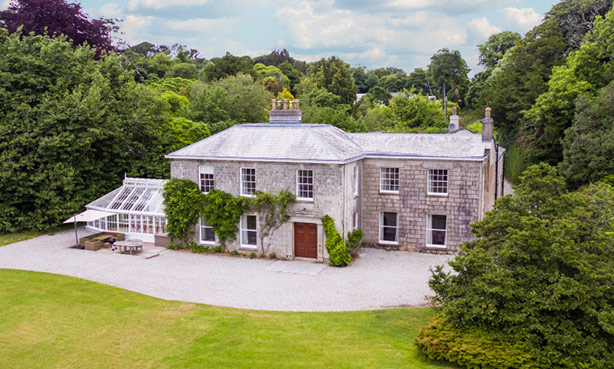 Our Nature & Nurture retreat offers daily Yoga practice, optional 'Meditation for Beginners', complimented with healthy and delicious meals prepared for you every day, and plenty of time to relax however you choose, whether that's curling up in a comfy armchair to read, or walking in the Burncoose gardens, perhaps foraging for wild herbs and plants with Matt from Cornish Wild Food.  HomeSpa Cornwall also offer a range of in-house treatments if you fancy a pamper or why not take off to explore the beautiful Cornish coast.
Burncoose is a place to relax, eat healthily, and restore balance to body, heart and mind. Come join us!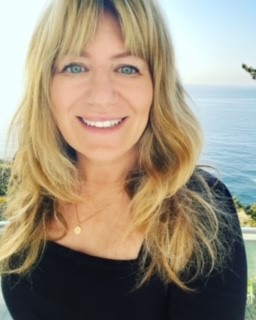 Your Yoga Teacher: Jenny Ella
Join me at Burncoose House, Cornwall for a wonderfully relaxing residential yoga retreat.
Relax, unwind, and reset your system with daily yoga classes and meditation. Boost your health, energy and wellbeing and come away feeling refreshed and restored.
The yoga is held under canvas on the lawn so you can practise whilst fully connecting with nature, and beyond that, you can do as much or as little as you like. There are early morning and late afternoon yoga classes with plenty of free time in between. There is also the option to join an afternoon 'Meditation for Beginners' course also offered by Jenny Ella (2 x 60 min classes) as part of your stay.
For me, inhaling and exhaling my way through a Strala flow yoga sequence is one of the most joyful, rebalancing things I know of (next to walking on the beach, dancing like a banshee, and spending Sunday morning in bed). My passion for yoga shines through my teaching because I love to share with others what I feel on the mat myself: strength, suppleness and radiant health, along with a clear, calm mind and a happy heart. OK, I may have the occasional off day or two but the overall effect is profoundly joyous and peaceful.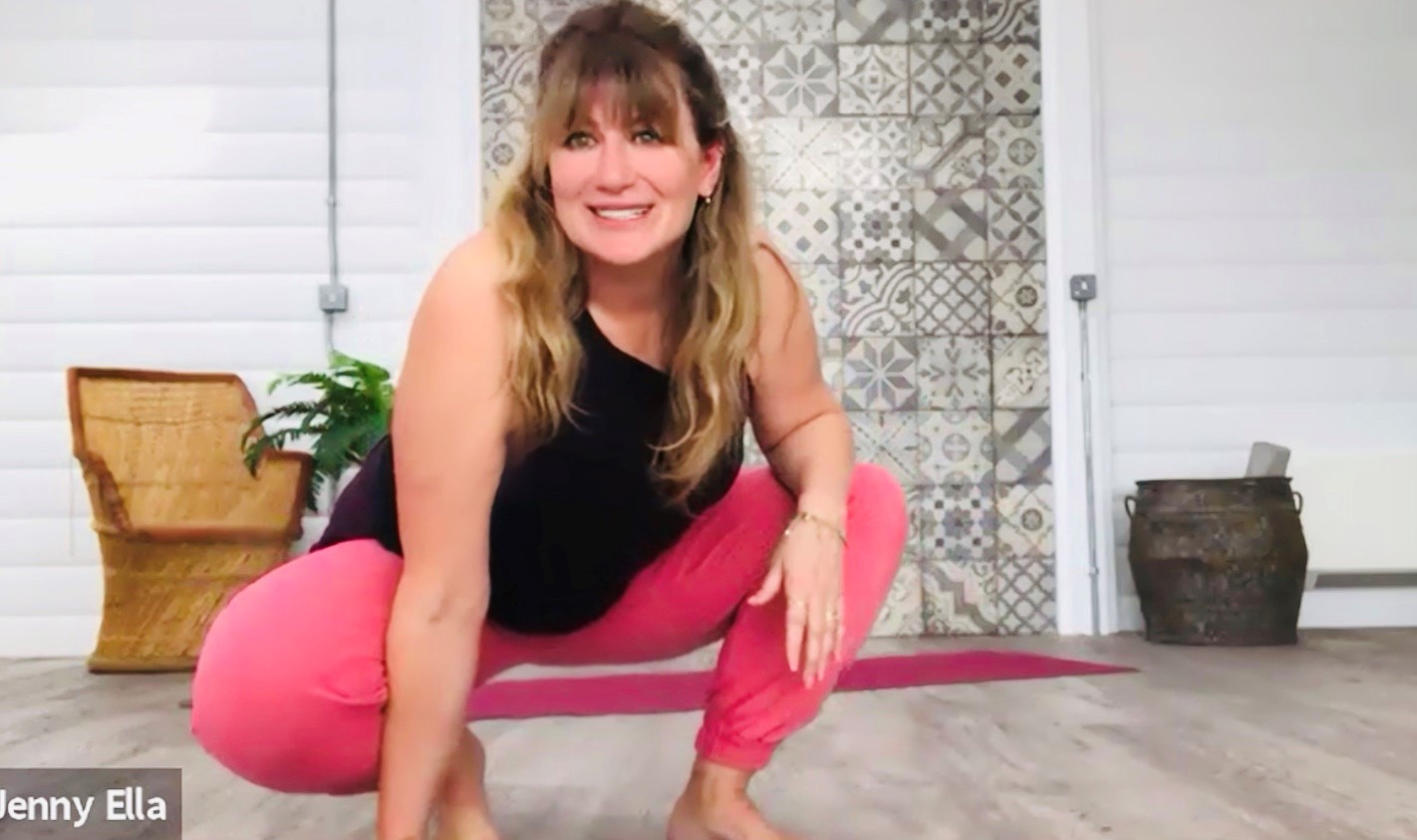 I have been teaching movement classes for over fifteen years. Initially as a Pilates teacher and today, as both a yoga and Pilates teacher. I have previously taught at a number of high-profile London studios including Triyoga, Primrose Hill, The Chelsea Harbour Club and the Westminster Physiotherapy Centre. I qualified as a yoga teacher with one of yoga's most respected Vinyasa Flow teachers, Mercedes Ngoh (Trigoya, London) taking her Vinyasa Flow Yoga Alliance accredited teacher training course. I have also qualified as an advanced 500-hr guide with Strala Yoga, training in Amsterdam, New York and Berlin with Strala founders Tara Stiles and Mike Taylor. I have also studied privately with renowned Hatha yoga teacher, Gary Carter, and with many more amazing yoga teachers in London, New York, LA, Miami and Costa Rica.
Today, I teach both in person and online, guiding classes from Cornwall, UK.
I was also former Vice Chairman of the Pilates Foundation and am the author of the Pilates Difference (Hamlyn Books) published internationally and translated in over 6 different languages.
Important Health Notice
Although yoga is regarded as very safe to practise, not all yoga poses are suitable for all people. Always check with your GP first if you have any physical or mental health conditions that might be adversely affected by practicing yoga. Amongst other medical conditions, the classes on this retreat are unsuitable for you if you are pregnant, have high/low blood pressure, cardiac irregularities or bulging/herniated discs. If there is any doubt, please consult your doctor prior to booking.
Please notify your teacher of any injuries or health concerns prior to taking part in a class. Please also note that whilst your teacher may offer alternatives and modifications to poses, individual correction is not always possible in a group class situation.
Please note:  This retreat is perfect for beginners as well as for those with more experience. However, it is not suitable if you have never taken a single yoga class previously.
If you're brand new to yoga and would like to join, we'd love to have you but please prepare in advance by taking some online classes with Jenny beforehand. (Weekly group classes are available and you can book a one-off private class with Jenny in advance too, if you'd like.)
Please contact Jenny by email for more information re. online classes:   jennyellayoga@gmail.com
Please bring your own Yoga equipment including mat, block and strap!
Jenny Ella Yoga | Yoga & Pilates for strength, suppleness, joy and ease!
Included in the Nature & Nurture Retreat is the introduction to Mind, Body & Soil.
Mind, Body & Soil is a monthly plant and wellness parcel designed to bring you self-care through plant care.
Discover how to give your wellbeing a boost through nature with this carefully chosen mix of plants, candles, tea, wellness products, books and more.
Each box is different and in harmony with the seasons – previous boxes have included the Aloe-centric 'Summer Soother' and a 'Tea Time' bundle for tea lovers.
Mind, Body & Soil aims to highlight how plants and nature are crucial for our planet and for us as individuals. Each parcel teaches subscribers how to care for plants and how, in turn, their new plants may be caring for them.

You will receive a complimentary Yoga Wellness parcel which will include:
A Swiss Cheese plant
Ceramic pot
Yogi Bear Yoga block – https://www.yogi-bare.co.uk
Four five CBD – https://fourfivecbd.co.uk
1 Tregothnan Tea bag
1 free Yoga class with Charlotte Holmes
Plus an Exclusive Discount off your first Mind Body & Soil box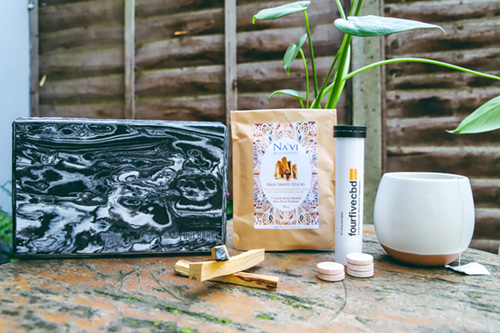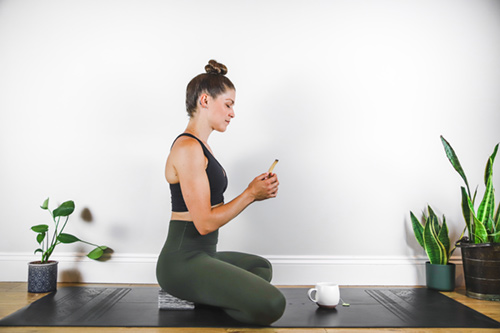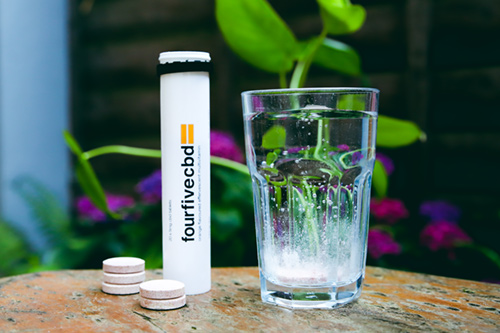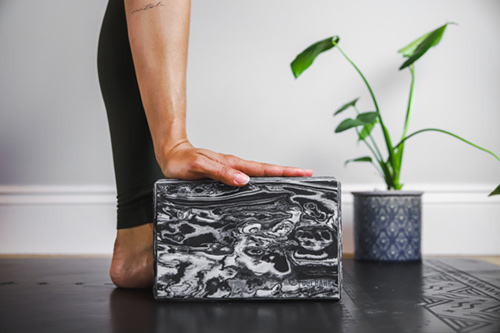 Retreat Booking Enquiry Form
Price:
Single occupancy – £654.00
Shared occupancy – £564.00
Prices include accommodation, food, morning and evening yoga classes and optional extras. (Excluding meditation classes)
Day Retreat – Thursday 30th September – £45.00
Price includes Open Yoga Class and Vegan Brunch.
www.burncoosehouse.co.uk/day-retreat/
Terms & Conditions
Please click here for Retreat Terms & Conditions.
Trains, Planes and Automobiles
The nearest train station to Burncoose House is Redruth, which is 15 mins by car. There are regular direct trains from London Paddington. Trains take approximately 4 hours 30 mins. We can advise on taxi recommendations from the station and suggest sharing car and costs where possible.
The nearest airport is Cornwall Airport Newquay at approximately 30 mins drive from the retreat. Car hire is available at the airport.
For those wishing to drive, please see the map below: