Relax and Unwind
There's something about soaking in a hot tub of water that drops us into a deeply relaxed state, especially with the addition of bubbles! While many of us may have showers these days, the bath still holds a special place in our hearts and it's still nice to have one every now and again, even if you have the option of taking a shower instead.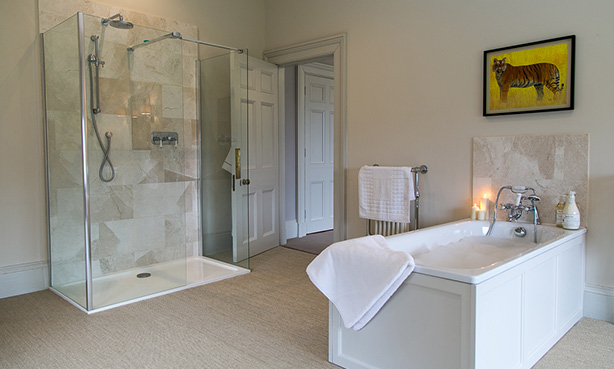 Own individual style
At Burncoose House you will be able to enjoy a leisurely soak in tranquil surroundings. Our bathrooms have been completely refurbished. Each one has its own individual style and all apart from the annex are spacious and have a bath with separate walk in shower. For added comfort we have installed underfloor heating and heated towel rails. Fluffy white towels and bath robes are provided.
Luxurious Toiletries Included
Our guests' toiletries are from St Kitts Herbery a Cornish family run company founded in 2001. They produce a range of deliciously scented, herbal toiletries. Our favourite is Rosemary and Bergamot. The luxurious products are formulated using their own home grown herbs. Holidays are the perfect excuse for soft flickering candles, scented bubbles and a glass of something chilled. Pure bliss!